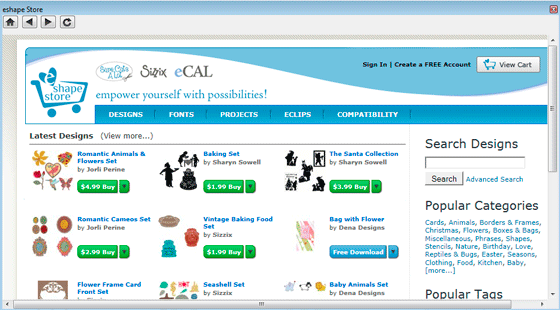 This exciting new way to shop for digital shapes is fast, fun and economical. Plus all the designs in our virtual store are 100% compatible with the Sure Cuts A Lot (SCAL) software and the exclusive eCAL software for both the original Sizzix eclips and eclips2 electronic die-cutting machines.
- Discover the newest and most popular designs from your favorite artists, including Sharyn Sowell, Brenda Walton, Jamie Pate and more.
- In just a few clicks, easily buy and download eshapes to empower your creations. Currently, there are over a thousand shapes and counting. More shapes will be added weekly, so check back often!
- For added versatility, our files import as the full shape, yet are arranged in labeled layers for multiple uses such as pieces and embellishments.
- Explore completed Projects for quick and easy application of your purchased designs.
- Take advantage of special pricing for single shapes and sets.
For more information:
http://www.craftedge.com/products/products_eshape.html